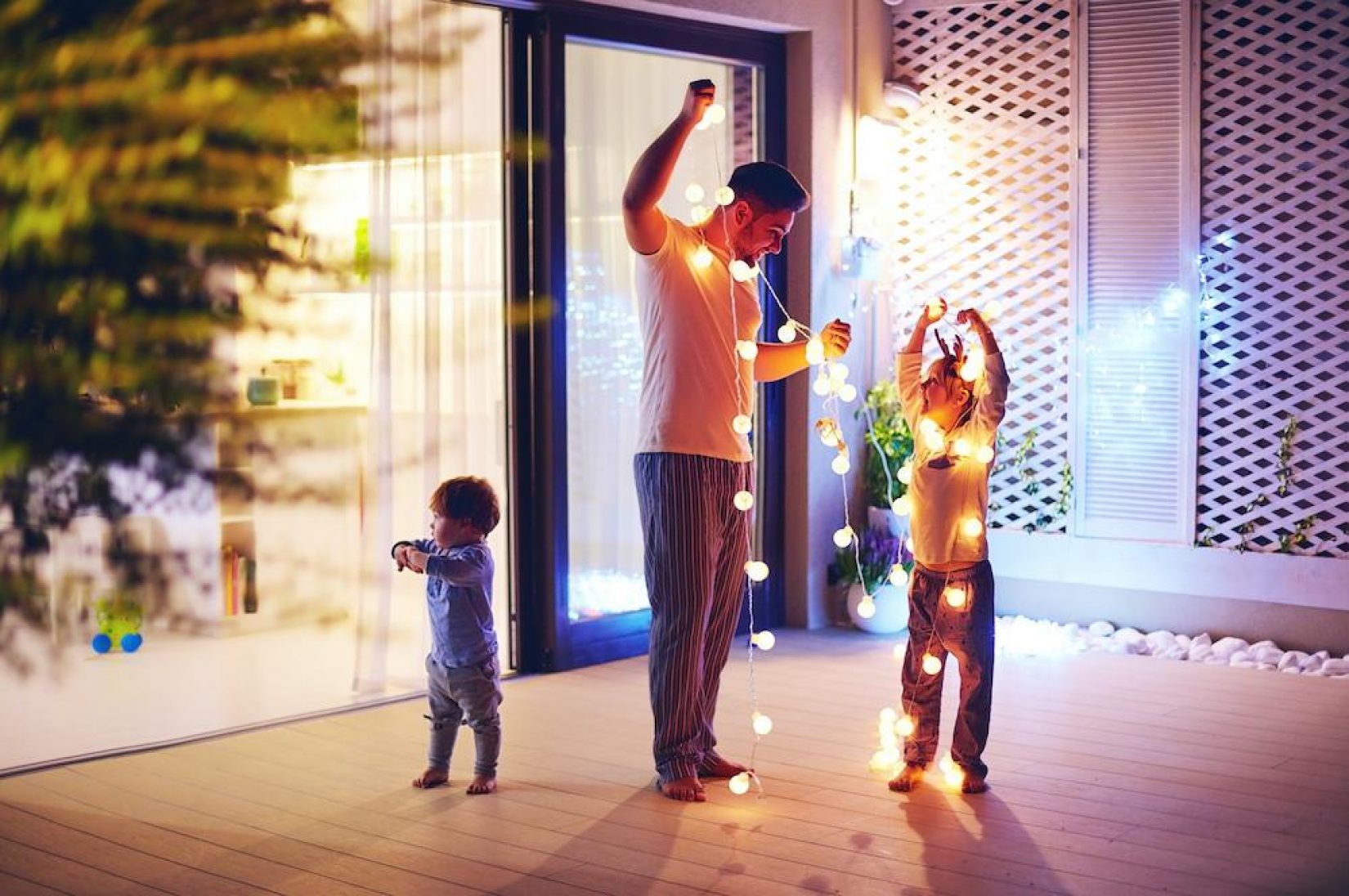 The holiday season has quickly come and although this year may feel a little bit different that doesn't mean it has to be less fun. There's so much to do during the holidays that can be a minimal cost, fun for the whole family, and of course, safe! Check out The 12 Days of Christmas activities for kiddos of all ages.
On the first day of Christmas: Decorate the House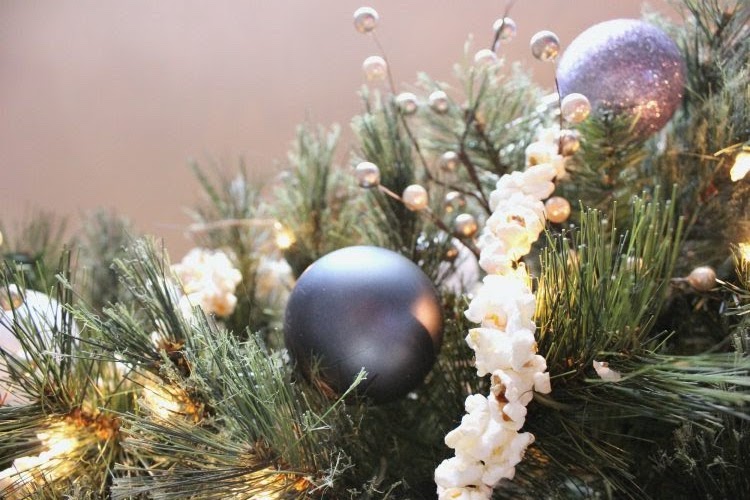 (image source: lelaburris.com)
Decorating the house with lights, stockings, garland, and a tree is always a magical experience, especially when you involve your little ones in the process. No matter how old they are it is always fun to see their eyes light up when you start pulling out the decorations. A fun activity to do as a family is to make your own popcorn garland and glitter ornaments – that way your kids can feel like they were a contributor to the decor!
On the second day of Christmas: Have a Movie Marathon
On the second day of Christmas have a movie marathon with the whole family! There's no better way to get in the holiday spirit than watching classic holiday films. You can even set up a little fort made out of blankets by the Christmas tree and make hot cocoa. A few of our favorite holiday go-to movies for kiddos are The Grinch, Home Alone, and Miracle on 34th Street.
On the third day of Christmas: Have a Gingerbread House Contest
A gingerbread house contest is a great activity for the whole family. All you need to do is buy two or three gingerbread house making kits at your local grocery store and get creative! You can even throw in a prize for the winner to make it more of a competition.
On the fourth day of Christmas: Make Sugar Cookies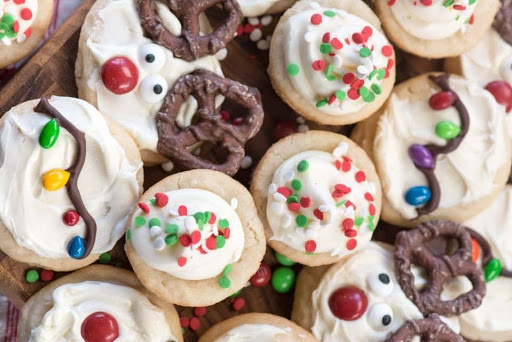 (image source: crazyforcrust.com)
What doesn't say holiday cheer like fun, cut out cookies? Your kiddos will love making a mess in the kitchen and coloring the cookies with icing. Here are three different cookie ideas if you need some fun inspiration!
On the fifth day of Christmas: Have a Lights Tour
Hopefully, by the fifth day of Christmas, your neighbors will have had enough time to get their lights up! Pile the family in the car and drive around and look at lights. If you really want to make a night out of it you can pack snacks for the car ride and have each kid rate the houses from 1-10.
On the sixth day of Christmas: Serve Your Community From a Distance
At Monkey Joe's, we believe in the importance of service. There are so many opportunities to serve with your children, even from a distance. Here are some ideas – choose an organization that your family cares about and donate or safely wrap up your holiday cookies and pass them out to your neighbors if they're comfortable with that.
On the seventh day of Christmas: Make Dinner Together
Let your kiddos pick out what they want to eat and make dinner together! Another fun idea is to prep an extra meal and bring it to a neighbor, new mom, or someone in need.
On the eighth day of Christmas: Read a Holiday Book
There are so many great holiday classic books to read with the whole family! Make it a tradition and read the same book every year around this time with your little ones. A few of our favorites are Twas the Night Before Christmas, How the Grinch Stole Christmas, and The Polar Express.
On the ninth day of Christmas: Make Snow Ice Cream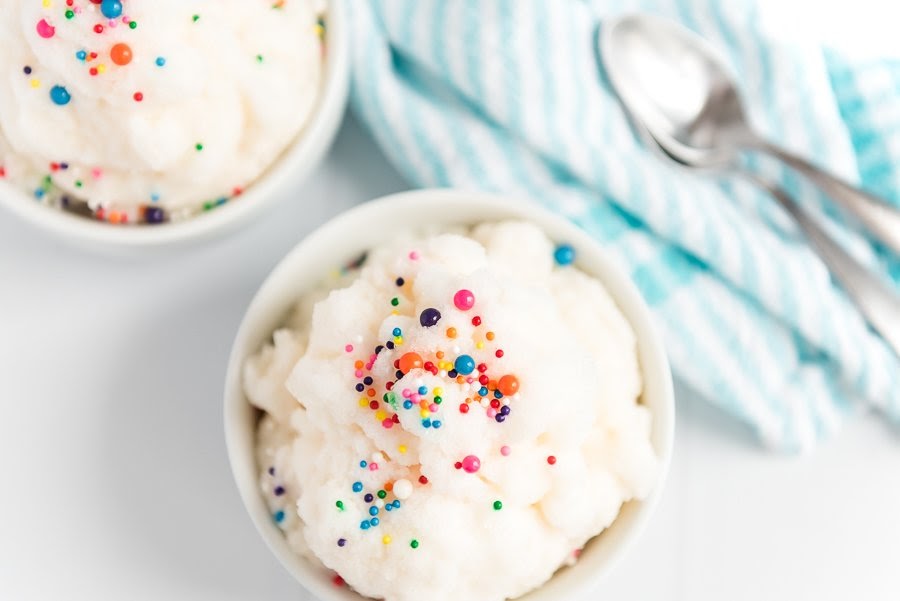 (image source: blessthismessplease.com)
Make a fun snow ice cream with "confetti" (rainbow sprinkles) on top! You can find the recipe here.
On the tenth day of Christmas: Light A Fire and Have a S'mores Night
If you have an indoor or an outdoor fireplace light a fire and roast marshmallows over it! You can also use this time to talk with your family about goals for the upcoming year.
On the eleventh day of Christmas: Make Holiday Cards
Make holiday cards with your kiddos and send them to friends and family who you may not be able to see this year due to COVID. It will brighten your day and the recipients!
On the twelfth day of Christmas: Color a Monkey Joe Santa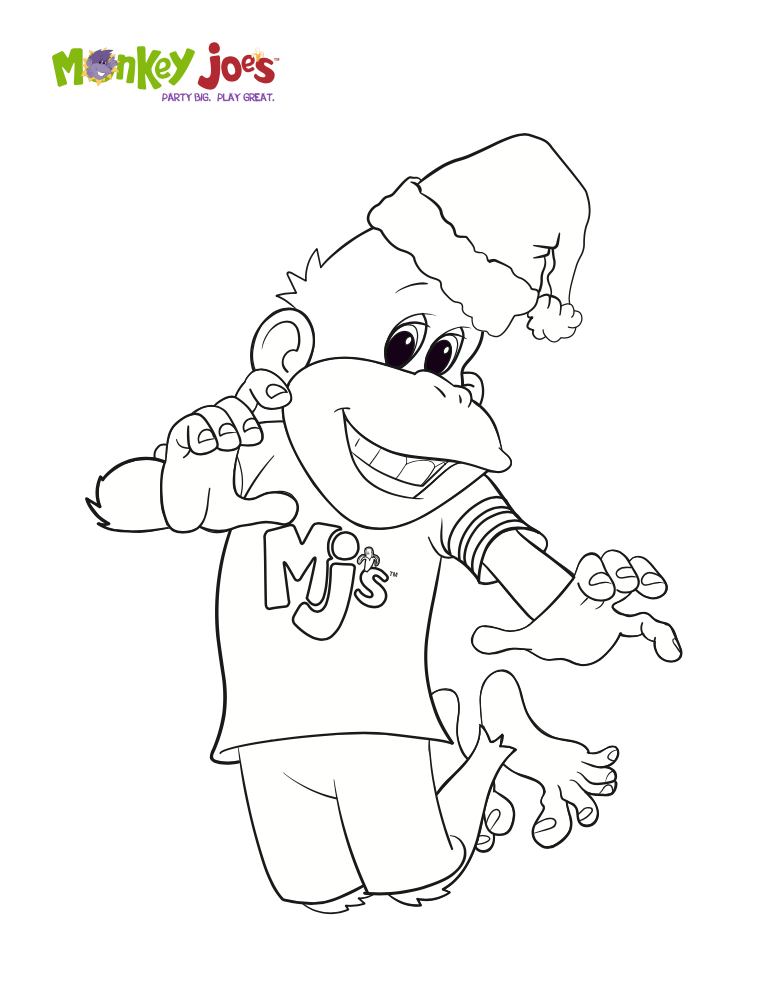 Finally, you've made it to the twelfth day of Christmas, and we have a special treat for your little ones! Here you can download a coloring sheet with Monkey Joe wearing a Santa hat. All you have to do is print it out, let your kids get creative with coloring him in, and voilá, you have a fun holiday Monkey Joe Santa!
As you can see, there's so much to do for the holidays while still staying safe and spending minimal money. We are also open this holiday season if you need to get your kiddos out of the house! To see what's going on at your local Monkey Joe's click here.