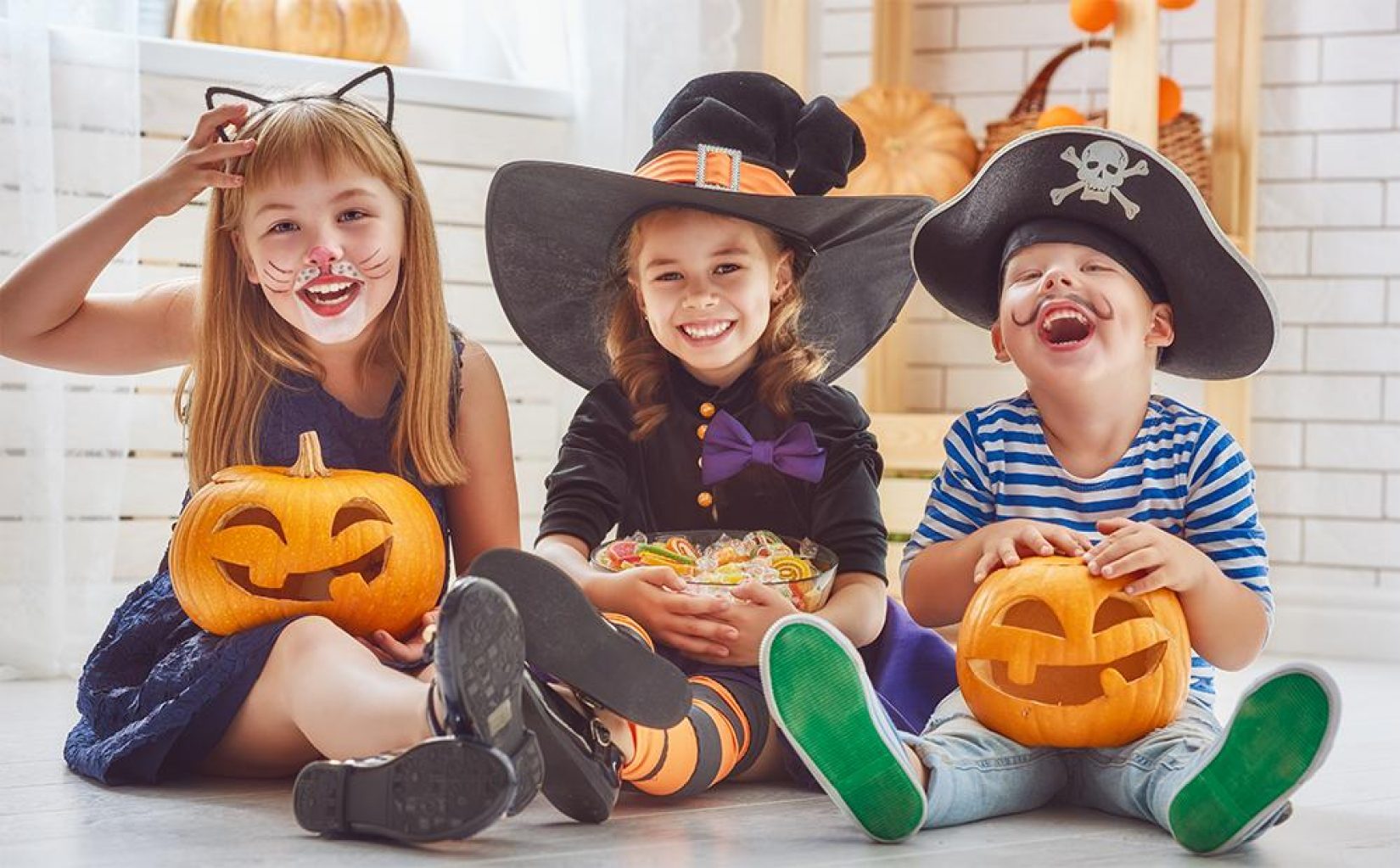 October is one of our favorite months here at Monkey Joe's! We love to see everyone dressed up as their favorite characters – maybe we'll even see a few dressed as their favorite purple monkey! With Halloween just around the corner, you want to make sure you're doing everything you can to ensure that your kids are having a safe (but fun) night. Be sure to read through these Halloween tricks that'll help your little monkeys stay safe and sound.
Costume Accessory Tips – Props are all fun and games until someone gets hurt. If your little one is dressing as a ninja warrior or a fierce pirate, make sure that their swords and knives are short, soft, and flexible!
Masks and Capes Tips – Keeping your superhero's identity is a top priority. Besides, you can't let everyone know who's saving the world! To prevent tripping, make sure all capes are no longer than your child's calves. As for masks, use face paint whenever possible to avoid sight obstruction. If your hero is set on having a mask, be sure that it is tight fitting, and there's no room for it to droop over their eyes.
Use Reflective Tape – It's no secret that trick-or-treating is (usually) a night time activity, and with night time comes limited vision for both your child and others. On your child's costume and trick-or-treating bag, put reflective tape so that drivers are able to easily see your kids. Also, have your child carry a flashlight with them so that they can see any and all bumps in the road or sidewalk.
Check Their Candy – Every kid wants to immediately dive into their candy haul when they get back from trick-or-treating, but you should always check their candy before they eat it. Check for any unusual color or appearance, tiny pinholes or tears, and spoiled/unwrapped items. The best rule of thumb is when in doubt, throw it out, and never let your child eat homemade goods, unless you know and trust who gave it to them.
Go With an Adult – Even if your child is just trick-or-treating around the neighborhood, always make them go with an adult. Children sometimes forget to look both ways before crossing a street, and may not remember to not enter a stranger's home – even if that means not getting any candy from that house.
We love Halloween at Monkey Joe's. All of our locations will be celebrating on October 25 for some fright-free Halloween fun and bouncing! Join us at any of our locations for a day of spook-tacular fun.